Sewing Projects for a Full Heart (and Bobbin)!
Sissy's Quilt Designs
When someone is covered in a cozy, warm quilt, they are reminded that someone sat at a sewing machine for hours, carefully piecing and stitching, with them in mind. A handmade table runner sitting on the family dining table shows a loving home to all who feast there. To be gifted a wall hanging is a reminder that they are loved by its maker.
Valentine's day is one of the best holidays to make for because it's about love and we LOVE to make! Here are some sweet as pie project ideas: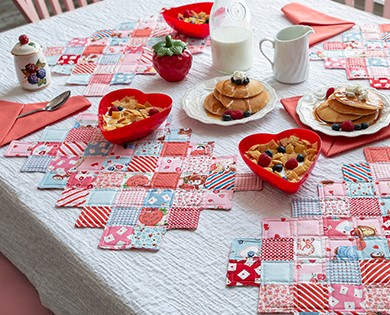 Zig Zag Placemats & Napkins
Make tea time the best time when you get stuck on these easy-to-sew table accessories!
You Make My Heart Happy
"You make me happyyy when skies are greyyy. You'll never knooww dearrr how much I love you…" is what you'll be singing while putting together this adorable project!
Check out our selection of Valentine's Day themed fabrics and get started! Whatever you make, make it with love.
Have you ever received a hand-made gift? Tell us about it in the comments!